News & Updates
Indi Trip Update
Fri., Nov. 15, 7:55 a.m. -- Good morning! Everyone is doing well. Our travels went pretty smoothly yesterday. Everyone had a great time at the recreation center driving go-carts, playing laser tag, and participating in some mini-golf. We are headed to Lucas Oil Stadium to watch some of neighboring Ohio bands' performances then we'll go through the whole process ourselves. This day will move pretty quickly! We'll try to post an update later this evening.

Order Your 2013 NHSMB Photos
KZ Photography has finished taking photos of all members and sections. To view and order photos, please visit the following website: http://kimz.zenfolio.com/norton_band_2013

NHSMB Kicks-off Season at Cloverleaf
Congratulations to the NHSMB for earning a Superior Rating at the OMEA Cloverleaf Calvacade of Sound on Saturday, September 14. The band earned several caption awards, was named 1st place in Class A, and earned Reserve Grand Champion of the event. This is where the road began...

Follow @NortonBands on Twitter!
Norton Bands is now on Twitter! Please follow us @NortonBands!
Welcome to Norton Bands, online!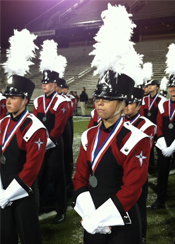 Welcome to the Norton Instrumental Music Department website! This website was created with the purpose to inform, update, and entertain. On this site, you will find a vast amount of information that will continually keep you up-to-date with the latest in the Norton Instrumental Music Department. As a band student or band parent, you are encouraged to visit this site often, as much of the information mailed or passed handed-out at school will also appear on this site as a second way of communicating with you. Weekly newsletters, contest updates, and important news will always be placed here as a way to keep students and parents informed of what is happening in Norton. For alumni, band enthusiasts, and others who may be viewing this page, please use this opportunity to view the excellence this program has presented and achieved over the past 87 years! Thanks again for visiting our site! If you have any questions or comments, please email Thomas Chiera [Director of Bands, Norton City Schools] at tchiera@nortonschools.org , Charles Kaufman [Assistant Director of Bands] at ckaufman@nortonschools.org, or Dennis Oswald [Webmaster & Assistant Director of Marching Band] doswald@nortonschools.org or contact the Band office at (330) 825-7277. Thanks and have a wonderful day!