News & Updates
Congratulations, Indoor Percussion Ensemble!
Congratulations to the Norton Indoor Percussion Ensemble for earning 1st Place (Scholastic A) at the WGI Dayton Regional Championships on Sunday, March 9!

Concert Band, Wind Ensemble, Choir earn Superiors!
Congratulations to the Concert Band, the Norton Wind Ensemble, and the NHS Choir for earning Superior ratings at the OMEA District VI Large Group Adjudicated Event on Friday, March 7!

Band Update
Click here to view Mr. Chiera's latest band update from February 13, 2014. Also attached to this update is a permission slip that needs to be signed in order for band students to travel to Barberton HS for a joint school concert.

Concert Band & Wind Ensemble Dates 2014
Click here to download a copy of Concert Band and Wind Ensemble event dates for winter and spring 2014.
Welcome to Norton Bands, online!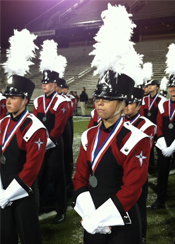 Welcome to the Norton Instrumental Music Department website! This website was created with the purpose to inform, update, and entertain. On this site, you will find a vast amount of information that will continually keep you up-to-date with the latest in the Norton Instrumental Music Department. As a band student or band parent, you are encouraged to visit this site often, as much of the information mailed or passed handed-out at school will also appear on this site as a second way of communicating with you. Weekly newsletters, contest updates, and important news will always be placed here as a way to keep students and parents informed of what is happening in Norton. For alumni, band enthusiasts, and others who may be viewing this page, please use this opportunity to view the excellence this program has presented and achieved over the past 87 years! Thanks again for visiting our site! If you have any questions or comments, please email Thomas Chiera [Director of Bands, Norton City Schools] at tchiera@nortonschools.org , Charles Kaufman [Assistant Director of Bands] at ckaufman@nortonschools.org, or Dennis Oswald [Webmaster & Assistant Director of Marching Band] doswald@nortonschools.org or contact the Band office at (330) 825-7277. Thanks and have a wonderful day!